It has great antimicrobial, anti-inflammatory and skin healing properties, and is also known to fight the damaging effects of pollution and UV rays on the skin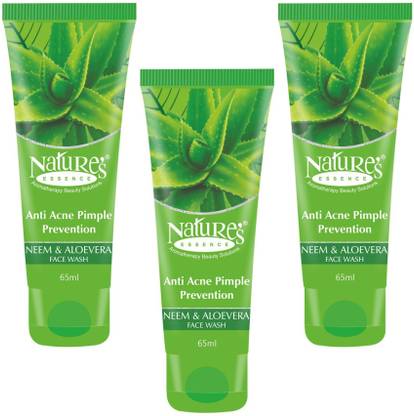 Description
A soothing and moisturizing effect now in a facewash that cares for your skin and removes dirt in a gentle cleansing mechanism. The Himalaya Moisturizing Aloe Vera Face Wash has the goodness of Aloe Vera and Cucumber that relaxes your skin and softens it, making you feel fresh. It has a soap-free formula that keeps your skin soft and adds a glowing look to it. So start your day with natural ingredients that purify your skin after every wash.
Key Benefits
Has a cooling and freshening effect.
Made with soap-free ingredients to suit your skin and leaves a softening effect.
Gives a cleansing effect and doesn't over-dry your skin after.
Contains Aloe Vera that is known for its skin hydrating, softening, and moisturizing properties.
The Cucumber in it is a good skin rejuvenator and helps tighten the pores; has antioxidant benefits and leaves your skin soft and smooth.
Ideal for dry skin types.
Directions for Use
Apply the required amount of face wash to your wet face.
Rub gently and wash with plain water.
Pat dry with a clean towel.
Safety Information
Suitable only for external use.
If you notice any skin irritation, discontinue use, and seek medical attention.
Keep it away from children's reach.
Check the label carefully before use.
Store in a cool and dry place.
Key Ingredients
Aloe Vera, Cucumber.
Flavour
Aloe Vera
Variant
Normal To Dry Skin